Introduction
We've drawn these three steps and four good practice points together with help from resources and colleagues from Care Quality Commission (CQC), Royal College of Nursing (RCN), Queen's Nursing Institute (QNI), and Controlled Drug Accountable Officers (CDAOs). They are not intended to be prescriptive; organisations and health economies will need to set up systems to access end of life care (EoLC) medicines in a pandemic that work best in their localities.
Step 1: Use the business as usual supply route
Where possible the usual supply route should be used. The most common ways medicines are obtained in the out-of-hospital setting is via a community pharmacy or via a hospital pharmacy if the patient is being discharged home. Figure 1 below illustrates the usual process. Consideration also needs to be given to the supply of parenteral fluids as stakeholders have reported that accessing such items is also important in the care of the dying patient.
Step 2: Enhance the usual supply route to meet the needs of patients
Some commissioners have put in place enhanced services to ensure that community pharmacies within their locality hold agreed stocks of EoLC medicines.
Implementation
Organisations have shared examples with SPS of how to meet this challenge. These can be used and adapted locally dependent on organisational fit.
Step 3: Consider an alternative supply route for the initial supply of medicines
During the COVID-19 pandemic, NHS England requested that CCGs (pharmacy teams) should consider setting up local hubs to ensure rapid access to anticipatory medicines as a matter of urgency. It is ultimately the responsibility of the local healthcare economy to make local decisions, conduct local risk assessments and consider the funding arrangements. Figure 2 maps out a possible process.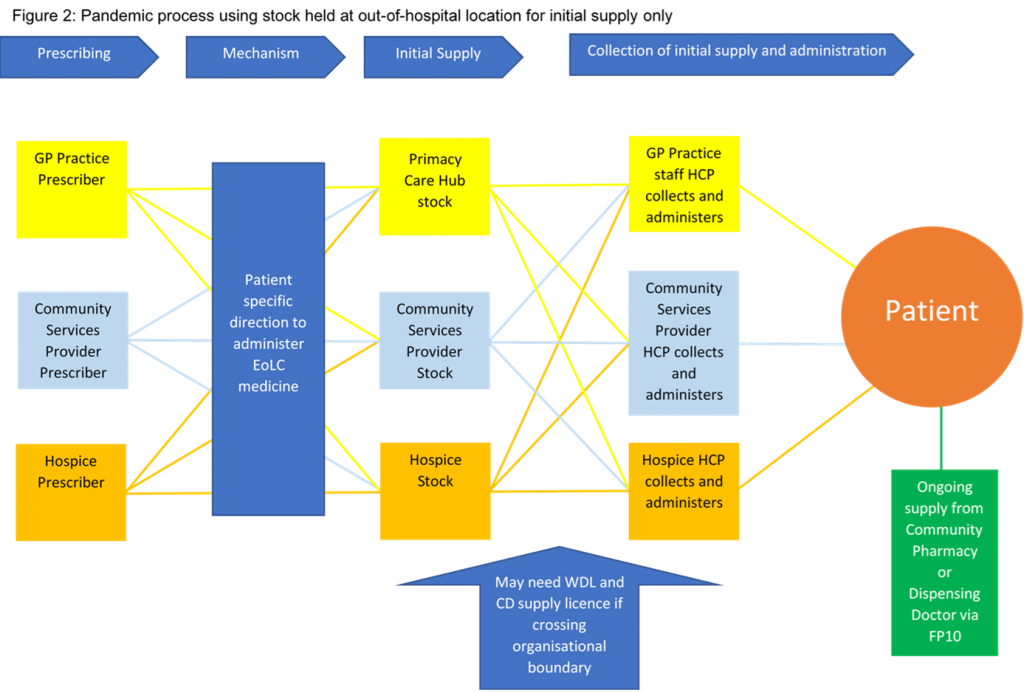 Wholesaler Dealer and/or Home Office Controlled Drug licences may be required, and professional advice must be sought. Further information is available on the gov.uk website but organisations may need to seek their own legal advice.
Implementation
Organisations have shared examples with SPS of how to meet this challenge. These can be used and adapted locally dependent on organisational fit.
Practice points
The practice points below will help implement the steps.
Point 1: Use a range of supply routes based on Steps 1, 2 & 3
Most organisations that have set up new systems have used a variety of supply routes based on the first three steps and this approach appears to have been successful in practice.
Point 2: Be wary of introducing risks by using other supply mechanisms
Other mechanisms for supplying medicines such as using a Patient Group Direction (PGD) need to be carefully considered and should not be used to circumvent perceived challenges in the usual supply route. As with any other patient pathways, clinicians should be mindful that NICE guidance on PGDs states 'Provide the majority of clinical care involving supplying and/or administering medicines on an individual, patient-specific basis. Reserve patient group directions (PGDs) for limited situations in which this offers an advantage for patient care, without compromising patient safety, and where there are clear governance arrangements and accountability.' The use of PGDs in end of life care and some of the legislative restrictions which organisations must be mindful of if considering PGD use are covered in more depth in a separate article.
Point 3: Identify who to work with
It is important to identify key stakeholders including the supplying pharmacy, prescribers and the palliative care team. A lead must be appointed and identifying a champion at senior level within the health economy can be useful where barriers are identified.
Point 4: Dealing with medicines no longer required
It is important that when medicines are no longer needed, because treatment has stopped or the patient has died, that medicines are appropriately dealt with.
Other resources
A variety of other organisations also offer advice on this issue.
Royal College of GPs (RCGP) and other organisations: Advice on priority medicines for palliative and end of life care during a pandemic
RCGP: Clinical guide for the management of palliative care during the coronavirus pandemic: Symptom management using non-oral and non-parenteral routes for administration of medication
NHS England: Advice on Coronavirus (COVID-19): reuse of medicines in a care home or hospice
CQC: Controlled drugs as stock in care homes
CQC: Controlled drugs National Newsletter April 2020
CQC: Controlled drugs National Newsletter July 2020
Change history
The current content is still accurate