Group purchasing power
Collaborative Purchasing Organisations (CPOs) are regional groups that manage the procurement of miscellaneous pharmacy products and services in England.
CPO regions
There are currently 9 CPOs in operation across England.
The North West Region utilises contracts set up by NHS Shared Business Services (SBS) or by external CPOs.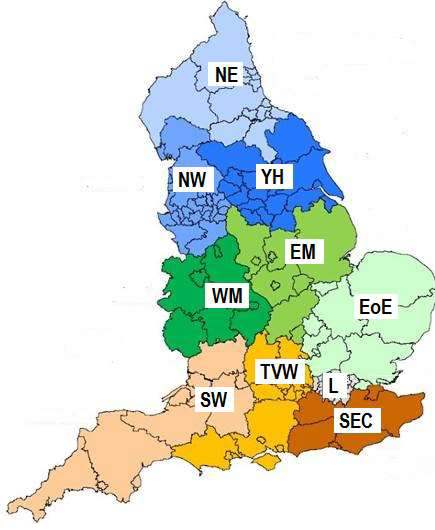 NE North East Pharmacy Procurement Service
YH Yorkshire and Humber NHS Pharmacy Purchasing Consortium
EM East Midlands Pharmacy Collaborative
WM Health Trust Europe
EoE East of England Collaborative Procurement Hub
TVW Thames Valley and Wessex Pharmacy Procurement Service
L London Procurement Partnership
SW Peninsular Purchasing and Supplies Alliance
SEC South East Coast NHS Commercial Solutions
NW North West (not a CPO)
Pharmacy products and services managed by the CPOs
The types of products and services managed by the regional CPOs in England include:
Cleanroom consumables
Compounding Services including dose banded chemotherapy
Contrast media and consumables
Drug Testing Kits
Emergency boxes
Enteral feeds
Eye products including Viscoelastics, hylauronidase
Fibrin sealants
Homecare (excluding four national contracts managed by CMU)
Imports
Insulin pumps and consumables
Liquid oxygen
Medical Gas Cylinders
Nitric oxide
Overlabelled medicine packs
Parenteral Nutrition
Pharmacy Automation
Radiopharmaceuticals
Urinalysis and pregnancy testing kits
Wholesalers
Wound care
The benefits of CPOs
These organisations are recognised and understood by the supplier base. The NPPSC is developing national documentation for contracts based on best practice which can then be used at regional and devolved nation level.
C is for Collaboration
The procurement of pharmacy products and services is managed effectively through the regional collaborative purchasing organisations:
Collaborative groups can and do join together to share workload.
The maximum size of market share that can be tendered at any time should be agreed by the RPPS.
As a general principle no one brand of pharmacy product or contract with any one service provider should be awarded by more than 4 CPOs at any one time, to avoid the risk of limiting competition (new suppliers can be locked out for 4 years) and limiting opportunities for market management.
A collaborative group should not try to recruit individual Trusts from another region as this will undermine the collaborative strength of that region, confuses suppliers and can make contracts harder to manage.