Structured medication review framework
One example of a framework for a medication review to optimise medicines can be seen below, in the "person centred approach to polypharmacy", formerly known as "polypharmacy and medication review (seven steps)". This was published in 2016 in the European Journal of Hospital Pharmacy and has been adapted below to support structured medication review consultations.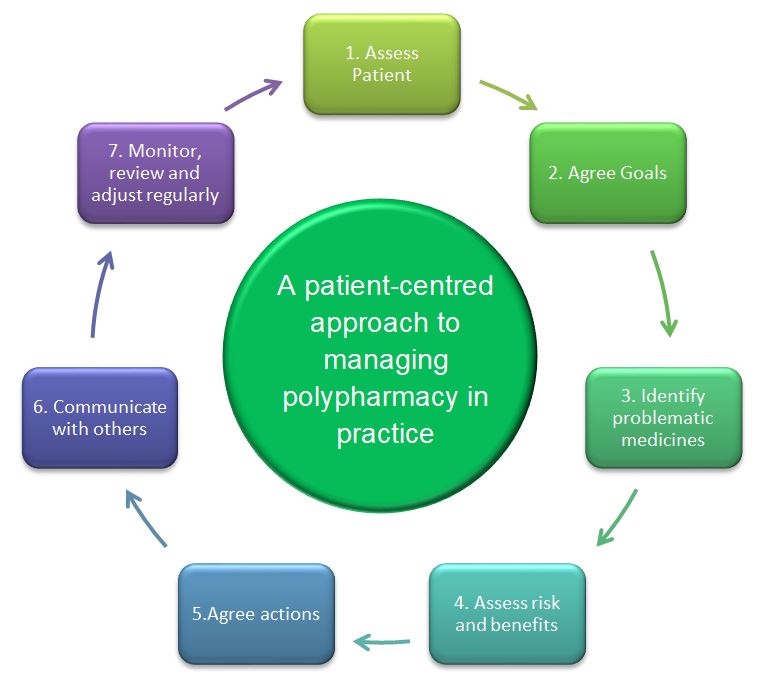 Actions include:
obtain medical, social and drug history from available health records and functional history from patient and/or carer
conduct medication reconciliation to establish what they are taking and how
ask how medicines fit in with or impact on their overall health goals with respect to patient's functionality, life expectancy and frailty
assess whether they have shortened life expectancy
assess if they are frail
discuss what medicines matter to the patient and/or carer, any problems they have, their experience of taking medicines and how it fits into their typical day
Agree the medicine-related issues/benefits the patient wants to be addressed for this visit, based on your patient assessment.
Initial discussion
Discuss with patient to identify:
potential and actual benefit
harm
medicine and non-medicine alternatives for each drug reviewed
The objective is to ensure that EACH medicine reviewed is tailored to the patient's circumstances, clinical and social situation and co-morbidities.
Consider the patient's perspective
Consider patient preferences and ability to adhere to the agreed regimen:
use deprescribing tools e.g. CaDeN, GPGP algorithm, NO TEARS
identify any new symptoms/conditions, review in relation to when the medication was started and address
ask about conditions which are active/inactive, time bound or resolved.
establish if there a valid indication for each drug
explore what perceived/actual harms or benefits are they experiencing for each drug in relation to their condition:

Start with general, open questions e.g. "Tell me about your pain medicines"
Move towards more specific, closed questions e.g. "Do you think the medicine is working?"

explore specific risks and benefits for each drug for your individual patient circumstances including shortened life expectancy; note any essential drugs?
Actions should include:
agree a way forward with the patient, including explaining referral to prescriber where appropriate and check patient understanding of next steps.
present options to prescriber in simple format, if not prescribing,
provide a written summary to the prescriber and/or in the patient's record, highlighting rationale, agreed action and monitoring, with a copy to the patient, where appropriate.
Produce a written summary highlighting:
rationale
agreed action for each drug change and monitoring
provide this information to the community pharmacist, social care, allied health professionals, care home staff and hospital clinicians as needed
follow local guidelines around consent/governance
Document review so information can be accessed by relevant people, following local processes.
Actions should include:
discuss the monitoring patient can expect, by whom and when
inform others who need to know about the changes made and/or act on them (with the patient's consent as appropriate)
ensure changes are clear, together with agreed actions and next steps, especially if no prescription will follow
Further information